Welcome to the landing page of the Steeps & Steps – participatory performance held at Festival of Intimacy, UCL on 19 June, 2021, 11-3 pm.
Please budget about 15 minutes to follow this audioguide as you approach the campus or walk between the venues.
We will be greeting you with a cup of herbal tea at Gordon Square at the end of your walk. You are welcome to bring your own drink or a thermos cup, either way it would be great to see you there for a cup of tea and a chat.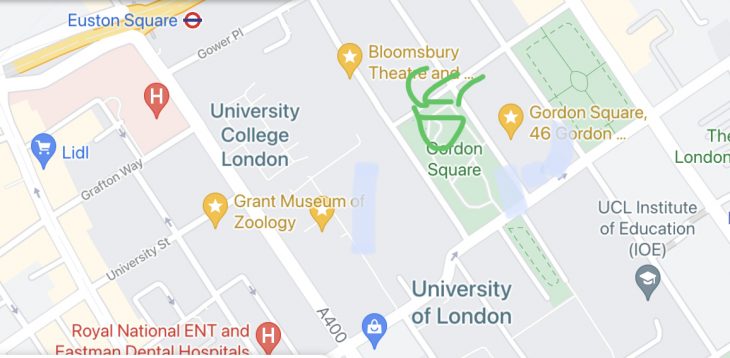 Steps & Steeps performance invites the participants to tune into a sensory audio-guided walk as they travel between festival venues concluding with a tea session at Gordon Square at UCL in Central London. The tea session will provide the social frame for listening and reflecting on participants' sensory encounters during the walk.
This participatory performance will provide the material with which to re-think themselves within the familiar-unfamiliar grounds of the campus, re-new their registers of touch, movement, smell and taste, bridging the gap between the human and the natural.
This participatory performance is a collaboration between artists Stephanie Whitelaw and Olha Pryymak. It will be a welcome in-person extension of the virtual workshops they held throughout the pandemic with the Virtual Care Lab.
You can find Stephanie's website here for more information about her work and ongoing projects. Please get in touch with us over email or on instagram Stephanie and Olha for feedback, thoughts or just to say hello.